If your kitchen's design, layout, and features are dated or don't meet your family's needs, wiping the slate clean and starting from scratch might be your best option. A comprehensive update with new appliances, materials, and customized storage can drastically improve your quality of life and pride in ownership (and add practical home value!).
But what if you like your kitchen overall, and simply want to update the aesthetic appeal? What are your options?
Painting Kitchen Cabinets - Transform Your Kitchen with Customized Style
Photo by Rogall Painting, Inc. - Browse traditional kitchen ideas

Painting your cabinets offers huge benefits, and has skyrocketed in popularity over recent years. Compared to many options, this can be a cost-effective alternative to a complete replacement, and is an opportunity to apply the exact style you want.
Replace the Hardware on Your Cabinetry
Photo by Custom Woodworking Cabinetry & Design LLC - More farmhouse kitchen photos

You will be amazed by what a difference this makes! Swapping out dated hardware with new pulls and knobs is a simple way to elevate a space, delivering an updated look in no time.If you haven't shopped for hardware in quite a while, prepare yourself to be amazed by the number of options out there. In fact, to narrow it down, it might be wise to go into the shopping process with a firm idea of your ideal style, material, and budget.


Is Your Kitchen Lighting Working for You?
Replacing existing light fixtures is a powerful way to inject a more modern style, and can be done very simply. Installing under-cabinet lights also creates a pleasing, functional ambience, and is a trendy touch that will quickly make your space feel more chic.
Add Open Shelving Or Glass Cabinet Doors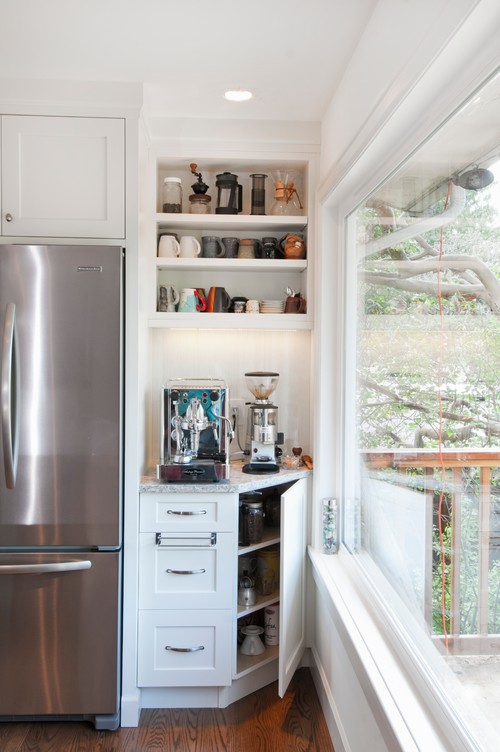 Photo by Thomas Philips Woodworking LTD. - Browse transitional kitchen ideas

Both of these options are a fantastic way to showcase unique dishes or decorations. Turning a corner of your kitchen into a coffee station, for example, is a fun idea, and it begs for a display of colorful mugs for your guests to choose from. Add in a couple of trendy signs or maybe chalkboard paint to complete your coffee shop vibe, and you'll be ready for business!


Don't Forget to Update Your Seating

Depending on your budget, you can either invest in new chairs or stools, or you could tackle a reupholstering project and wrap them in a fun new pattern. If sewing from scratch isn't your strong suit, you also could adapt a seat cover. Either way, vivid colors and patterns add depth, beauty, and variety to a kitchen.
At the end of the day, you know your kitchen best. Whether you find a remodeling professional to help you make a drastic change or make small, Saturday afternoon updates yourself, the most important thing is that you love your space. We also suggest taking advantage of resources like Houzz.com for incredible inspiration and guidance from design pros.